Sample "Flavors of My World"
Sample Chapter: Japan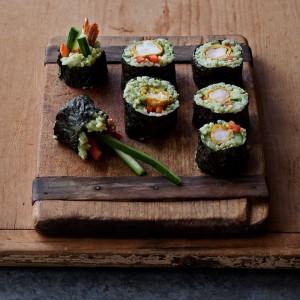 It's funny how some memories stick with us, while others seem to easily slip away. One of my most distinct recollections from childhood is the day when we as a family stood side-by-side and bid farewell to my father as he set off on a business trip to Japan.
That day, it was only my imagination that accompanied him, but it was his rapid return that is the highlight of this emotional landmark, as we were all quickly and forever reminded that we were never far from his thoughts. Like a messenger with a critical note, he quickly got down to business as he dazzled us with exciting stories of his journey. Thankfully, these stories were accompanied by exquisite pictures that spoke of a land so foreign and exciting, it seemed as if he was recounting a dream. To no one's surprise, the story that most resonated with me, was that of an unusual food culture—unlike any he had ever experienced. This is where my fascination with Japanese food began and this was my first introduction to the world of sushi.
Since that time, I have discovered that sushi actually evolved from very meager beginnings over 1300 years ago. Fast forward to the 1980s when in the wake of an increased health conscious population, this seemingly unusual cuisine rocketed to popularity and has become not only an American favorite, but one of the healthiest dining options available.
A truly globally embraced culinary art form, these curiously adventurous and tasty creations are now so eagerly consumed, that they can be found in the most elegant of settings, or even at the local supermarket. The passion for this delicate cuisine has truly hit the mainstream, as there is just something that sushi lovers swear, is most deliciously addictive.
Sukiyabashi Jiro, Tokyo's famed 10-seat sushi temple, is a great example of how sushi inspires individuals around the world. This is the kind of restaurant that global epicurean travelers book months in advance and will thankfully travel thousands of miles to experience. There has even been a widely released documentary film produced about this honored sushi master and his unusually tiny restaurant that boasts the coveted three Michelin stars.
Chefs from all over the world have fused local ingredients into this culinary expression, including the ever popular 'California Roll,' featuring avocado and crabmeat. As in art, sushi continues to grow, change and blossom and each culture initiates their own unique spin on this ancient craft.
This passage was excerpted from the first draft of "Flavors Of My World," available in bookstores beginning April 20, 2013 and currently available for purchase online.
In support of their book, Flavors of My World (Favorite Recipes Press; May 1, 2013), James Beard Award Winning Celebrity Chef and judge of Food Networks's hit show Chopped, Maneet Chauhan and co-author, Daily food & Wine Founder and Jetset Magazine Travel Editor, Doug Singer will be conducting a 21 city book tour.
Launching in their home city of New York, they will be traveling on a classic "Rock Star" tour bus as they make their way across the country and at each stop they will be facilitating book signings, "One Night Only" restaurant events (where they will be partnering with a high-caliber local chef), and a ProStart cooking competition. To make it even more exciting, they will be capturing everything on film for a reality television show.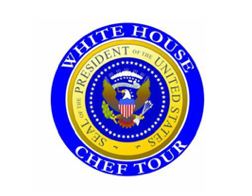 ProStart, the non-profit arm of the National Restaurant Association has 1700 locations across the country and is benefiting over 100,000 high school aged students. Their mission is to educate them in culinary arts and hospitality, ultimately certifying them and giving them the skills they need to get jobs in a competitive workplace. In each city, the top three ProStart students will compete in a classic cooking competition where they will have 40 minutes to create a healthy entree that is indicative of a contemporary American cuisine. The winner will receive a set of elusive Gunter Wilhelm Executive Series knives, a favorite of professional chefs worldwide. Additionally, the top three ProStart student finalists will experience firsthand the thrill of taking center stage at NRA show 2013 and the ProStart National Champion will also win additional prizes, and the honor of traveling to Washington, D.C., where they will spend the day cooking with one of the featured chefs of the White House Chef Tour. ™
To download the below as xls & pdf files; click here & here.

April & May 2013 Tour Dates
| City | Event | Venue | Address |
| --- | --- | --- | --- |
| NEW YORK , NY | Restaurant | Taboon | 773 10th Ave, 52nd Street NY, NY |
| NEW YORK , NY | Book Signing | Posman | Chelsea Market 75 9th Ave., New York, NY |
| PHILADELPHIA, PA | Restaurant | Tashan | 777 S. Broad Street Philadelphia, PA |
| PHILADELPHIA, PA | Book Signing | Barnes & Noble | 1805 Walnut Street Philadelphia, PA |
| BALTIMORE, MD | Restaurant | Ouzo Bay | 1000 Lancaster Street Baltimore, MD |
| BALTIMORE, MD | Pro-Start | Baltimore Marriott Waterfront | 700 Aliceanna Street Baltimore, MD |
| RALEIGH, NC | Restaurant | Bida Manda | 222 South Blount Street Raleigh, NC |
| RALEIGH, NC | Book Signing | Southern Season | 201 S. Estes Drive Chapel Hill, NC |
| NASHVILLE, TN | Restaurant | Anthem | 125 12th Avenue N Nashville, TN |
| NASHVILLE, TN | Book Signing | Whole Foods | 4021 Hillsboro Pike Nashville, TN |
| LITTLE ROCK, AR | Restaurant | Vesuvio Bistro | 1501 Merrill Drive #100 Little Rock, AR |
| LITTLE ROCK, AR | Book Sign/Cook. Demo | Whole Foods | 10700 N. Rodney Parham Little Rock, AR |
| DALLAS, TX | Restaurant | Komali | 4152 Cole Ave Suite 106 Dallas, TX |
| OKLAHOMA CITY, OK | Restaurant | Museum of Art Cafe | 415 Couch Drive, Oklahoma City, OK |
| ALBUQUERQUE, NM | Restaurant | Artichoke Cafe | 424 Central SE, Albuquerque, NM |
| ALBUQUERQUE, NM | Book Signing | Keller Farms | 6100 H Coors Blvd. NW Albuquerque, NM 87120 |
| PHOENIX, AZ | Restaurant | Beckett's Table | 3717 E. Indian School Road, Phoenix, AZ |
| PHOENIX, AZ | Pop-Up Lunch | Whole Foods Scottsdale | 7111 E. Mayo Blvd. Phoenix, AZ |
| SAN DIEGO, CA | Restaurant | Grant Grill | 326 Broadway San Diego, CA |
| SAN DIEGO, CA | Book Signing | Savory Spice-The Lumberyard | 937 South Coast Hwy 101, C-110 Encinitas, CA |
| LOS ANGELES, CA | Restaurant | Hornblower Cruises | Fisherman's Village 13755 Fiji Way Marina del Ray, CA |
| LOS ANGELES, CA | Book Signing | Whole Foods | 6350 West 3rd Street Los Angeles, CA |
| SAN JOSE, CA | Cooking Festival | Indian Community Center | 525 Los Coches Street, Milpitas, CA |
| NAPA, CA | Book Sign/Cook. Demo | Whole Foods | 3682 Bel Aire Plaza Napa, CA |
| PORTLAND, OR | Restaurant | Quartet | 1910 SW River Dr. Portland, OR |
| PORTLAND, OR | Book Signing | Savory Spice | 7857 SE 13th Ave. Portland, OR |
| SEATTLE, WA | Restaurant | O'Asian | 800 5th Avenue Suite Plaza 1 (P Level) Seattle, WA |
| SEATTLE, WA | Book Signing | Chef Shop | 1425 Elliott Avenue West, Seattle, WA |
| WALLA WALLA, WA | Restaurant | The Marc | 6 West Rose St. Walla Walla, WA |
| BOISE, ID | Restaurant | Barbacoa Grill | 276 Bobwhite Court Boise, ID |
| BOISE, ID | Book Signing | a Tavola Gormet Marketplace | 1515 W. Grove St., Boise, ID |
| DENVER, CO | Restaurant | Tag Restaurant | 1441 Larimer Street Denver, CO |
| DENVER, CO | Book Signing | Savory Spice | 1537 Platte Street, Denver, CO |
| KANSAS CITY, MO | Restaurant | Julian | 6227 Brookside Plaza Kansas City, MO |
| KANSAS CITY, MO | Book Signing | Whole Foods | 7401 W 91st St, Kansas City, MO |